Written by: Kasturi Chakraborty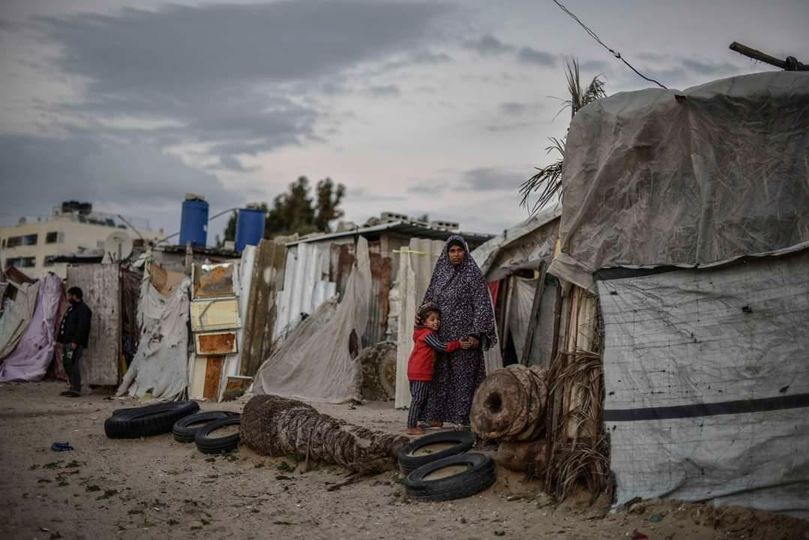 Gaza: For the wars Palestinians are fighting, at home, no monetary value can be assigned. Such financial awards do not override Palestinian refugees' right of return.
Their lives are carved up by checkpoints and borders. Palestinians say if they get lucky enough to escape getting frisked at the borders or being barred from traveling freely, denied entry, or escape night-time raids and property destructions, their lives are still interfered with arbitrarily through various degrees of military restrictions.
"Our lives are scattered, these checkpoints do not just aim to confine and show us our place, they penetrate much deeper into our lives. There is no continuity of land, our homeland is segmented into cantons," Naheel from Occupied Gaza Strip told the author.
We all are prisoners here.
A few displaced families illustrated how they have been squeezed into an ever-shrinking space, after repeated Israeli onslaughts.
Haitham Samir (24) recalls the terror of watching his house being razed to the ground and disappearing into rubble in front of his eyes while fleeing the 11-day assault on the besieged Gaza Strip in May last year.
It started with a blinding flash of light and then all went pitch dark, followed by a series of days spent searching and identifying the dead ones by the scraps of cloth on the charred, contorted bodies.
We saw people scream in pain while frantically searching for their family members.
Haitham's family is one of the few who somehow managed to survive the sustained aerial bombardment and artillery barrages by Israel that left around 120,000 people homeless. He now lives in a small makeshift house in Khan Yunis in the southern Gaza with his brother, and the rest of the family lives elsewhere. "The constant threat of violence wears us down," he told the author.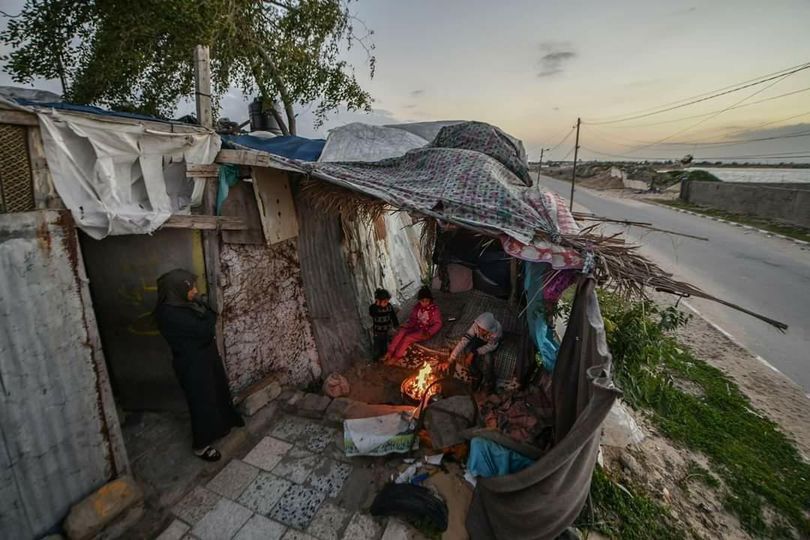 He says the war is not over for them, and adds that he would "never forget the taste of metal and stench of burning flesh".
The siblings live in one room made of leftover construction materials with multiple cracks and a temporary tin roof over their heads that starts leaking each time it rains. At one corner of the room they have secured some clothes, groceries and other essentials. "Even during Ramadan, we had to rely on donor assistance to celebrate," Haitham says.
Israeli warplanes pummelled Gaza and destroyed everything. This left countless families homeless. "I thought I would reuse and recycle the rubble but it was cleared out eventually," he went on.
Speaking about the besieged enclave, Undersecretary of the Ministry of Public Works and Housing in Gaza Naji Sarhan said the total damage from the Israeli aggression is estimated to be around $479 million. "The government teams worked on recording damages according to policies approved by the World Bank," he said.
He also explained how the losses were spread across three sectors — the housing and infrastructure sector incurred a loss of around 61%, the economic development sector underwent a loss of 33% and the social development sector had a loss of 7%.
After ceasefire agreements, billions of dollars were promised for reconstruction. Egypt and Qatar had pledged $500 million each for reconstruction of Gaza. However, these families claim that their losses have not yet been compensated for as was promised earlier. "I have debts to clear and I have not received any compensation. The rent of the place where I am currently staying is $150 per month. I barely have any money left, I cannot even buy food or clothes," he said, adding that he is unemployed now, which has added another layer of distress to his life.
Some families in the area also claimed that they had registered claims at Gaza's Ministry of Public Works and Housing but have received no response. "I had submitted all the documents but till now nobody contacted me," said Mohamed (name changed), who lived in a building on Yarmouk Street.
Another Palestinian, Hatem Ahmed, also living in Khuza'a, Khan Yunis  said his house was damaged too. "I lost my house in the 2014 Israeli bombing. My wife is pregnant. We are living in a makeshift set up here. How will we manage when the baby comes?" he asks. His father had applied for compensation from the UN's relief agency for Palestinian refugees, UNRWA but it was not approved.
This can be comprehended from UNRWA Commissioner-General Philippe Lazzarini's interview where he says that "the humanitarian needs of Palestinian refugees keep increasing while funding to the agency has stagnated since 2013". In January this year, he had also appealed for $1.6 billion to maintain its operations amid acute regional crises and chronic funding shortfalls.
Amid all this, many Palestinian students have taken it upon themselves to help these displaced families. They create campaigns for donations to buy food baskets for them. "Only official aids are allowed to enter Gaza and that too is subjected to extensive inspection by Israel," said Sameh Naim, a 22-year-old student from North Gaza.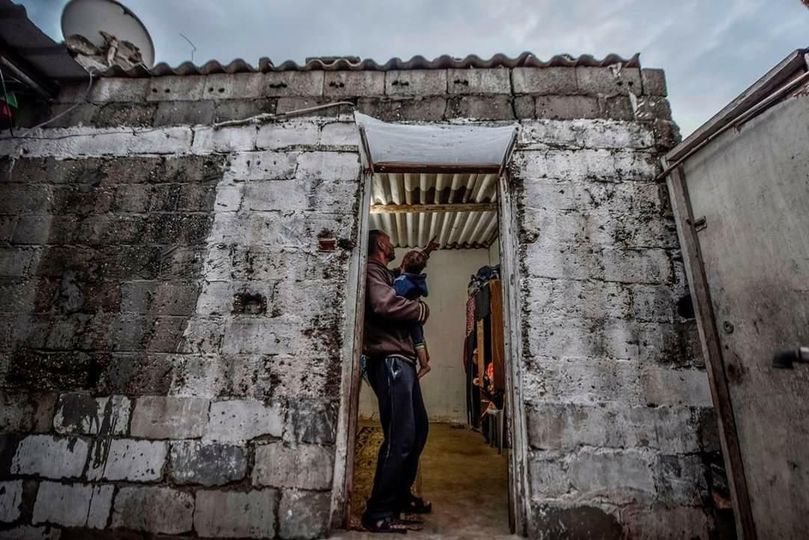 The blockade of Gaza since 2007 has pushed over 80% of the Palestinian population towards unemployment, malnutrition and living in poor mental health conditions, leading to a major humanitarian crisis with the lack of aid coming in and the dearth of opportunity for Gazans to make a living.
While the life value of Palestinians has merely turned into statistics with solidarities that are highly selective and discriminatory, the latest escalations went viral due to an increased visibility brought forth by Palestinians with the help of their mobile phones to document the injustices through social media platforms.
The videos captured raw footage of police and military violence, forced evictions, settler invasions and Zionist terrorism throughout historic Palestine, which led to a hightened awareness of the Palestinian struggle and a shift in the mainstream news media coversage of the cause, finally labeling it as what it is – "apartheid".
The Palestinian cause is part of the larger struggle internationally and there is just enough documentation out there to understand the reality that transpired since 1997 — how Israel's aggression enables dictatorship and empowers totalitarianism in the region.
This is a universal issue that goes beyond the historical borders of Palestine and it emboldens other repressive states to follow suit. Social justice advocate Ashraf Ghandour from Haifa says: "Sheikh Jarrah, Silwan, Isawiyeh and other East Jerusalemite neighborhoods are still under threat of forced evictions and are being invaded every day with state-backed settler groups that are threatening to force Palestinian families out of their homes."
He added that Palestinians have also witnessed 'terrorism' inside the Green Line, as "Zionist militias invaded Palestinian neighbourhoods, marked Arab homes, vandalized our property and threatened us, while in Jaffa, Lyd and Ramle, we have also seen Palestinians being lynched" and heard reports of a series of onslaughts.
Palestinian youth activist from Ramallah, Khaled Abu-Qare says there is no scope for recovery from what happened since 1948. "Palestinian Nakba has not stopped ever since. Recovering means dealing with an event that is over. But in our case, we are still facing systematic oppression on a daily basis," he says. The truth cannot always be whitewashed. Israel cannot shirk its own obligations anymore.
For Palestinians, their surroundings and spaces are constantly changing, where borders are surreptitious; where a continued sense of temporariness is meant to disrupt the systematic order; where identity, belonging, nationalism, resistance, and freedom are called into question. This is what occupation looks like and mainstream media have constantly failed to document the trauma of Palestinians that has passed on to subsequent generations. The only way to heal is to take on a process of transitional justice and acknowledge people's rights and sufferings.
Even after all these, Palestinians are not vengeful at all – they form the backbone of resistance, breathing life into what freedom could look like.
The views and opinions expressed in this article are those of the author and do not necessarily reflect those of IraqNow.